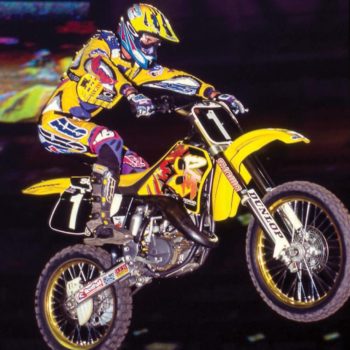 The 90's were…. Well, a much simpler time. Fricken Gun's N Roses and Jovi man! Back then, getting your fix of MX information came in monthly installments of Motocross Action magazine. Meaning, you had to wait 30 days until the next damn issue. School days seemed endless when you knew the next masterpiece was making its rounds with the postman. I remember the bus rides home, the last steps off the bus and Usain Bolt like sprints to the mailbox. That was more than 20 years ago…
Fast forward to George W, Obama, Trump, marriage, three kids, mortgage, pets, fidget spinners, "Where the hell's the remote" and a generation of kids only interested in Mine Craft….  It may seem as if your last bit of sanity, resides solely at the bottom of a bottle of Jim Bean and the 1o minutes you get on the throne scrolling through mindless Facebook posts.
Wait… What's this? A 1994 Factory Suzuki Replica build by the Infamous Matt Weller of Pivot Works?
Saved… By Nostalgia…